The Basque County: Spain & France
Everything Basque
May 24-June 2, 2024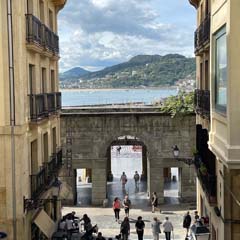 Tucked along the border of Spain and France, hugging the Bay of Biscay and Pyrenees Mountains, is the Basque Country—an ancient land rich with history and culture, exquisite cuisine and long-held traditions. We'll begin our journey into this fabled land in San Sebastian, a city considered one of the world's top food destinations. With its elegant Belle Époque architecture and medieval center, not to mention top-rated restaurants, you'll have time to explore and enjoy all the town has to offer. From here, we'll head into the nearby countryside, enjoying the green valleys and rugged seaside cliffs. Visit wineries, fishing villages, and learn the secrets of the Basque kitchen.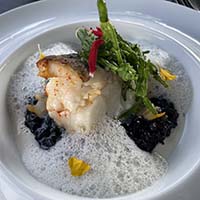 Next stop: France, where we'll meander through charming villages nestled amid the Pyrenees. In St. Jean Pied de Port, we'll see where pilgrims have come for centuries to walk the road, or camino, to Santiago de Compostela. Nearby sits the town of Espelette with its dried chile-adorned homes—a gift from the New World along with the chocolate that fills the stores in Bayonne. This ancient town, full of colorful half-timbered houses, is where shiploads of cacao first arrived from Mexico. Roam the medieval streets of Hondarribia and dine at a Michelin-starred restaurant. After crossing the border, we'll relish every minute at the Hotel Arrayain Sare, designated one of the most beautiful villages in France. The historic family-run establishment dates from the 16th-century and has all the charm you can imagine and more.
—————————————————
Experience the
Basque Country
$4600 per person, double occupancy
$900--Single Supplement
Extra night in Bilbao upon arrival: $250
—————————————————
Our Basque Country tour includes 2 nights at the Secrotel Arenal Bilboa, 4 nights at the Villa Katalina, and 3 nights at the 4-star Hotel Arraya in Sare, all ground transportation after arriving in Bilboa and until drop-off at the Biarritz train station or airport, all group activities, professional guides, cooking classes and demonstrations, all meals specified in the itinerary.
A $1000 deposit is required to secure your place in our Basque Country tour. Since the number of participants is limited and accommodations vary, early registration is advised.
Delicious Expeditions also offers culinary tours to:
Croatia, France, Guatemala, Istria, Michoacán, San Miguel de Allende, Slovenia, Tuscany, Umbria, Venice & Vienna
Don't just take our word for it!
Read our testimonials and see for yourself that Delicious Expeditions are trips of a lifetime!
A Culinary Journey into a Fabled Land
¡Bienvenidos!

Arrive to Bilboa and the Secrotel Arenal, located along the river and on edge of Old Town. We'll meet in the late afternoon for a walking tour that includes the Guggenheim Museum. Dinner of local favorites on the main plaza square.
See Basque Country photo gallery
———————————————————————————————————————————
Rioja Wine Valley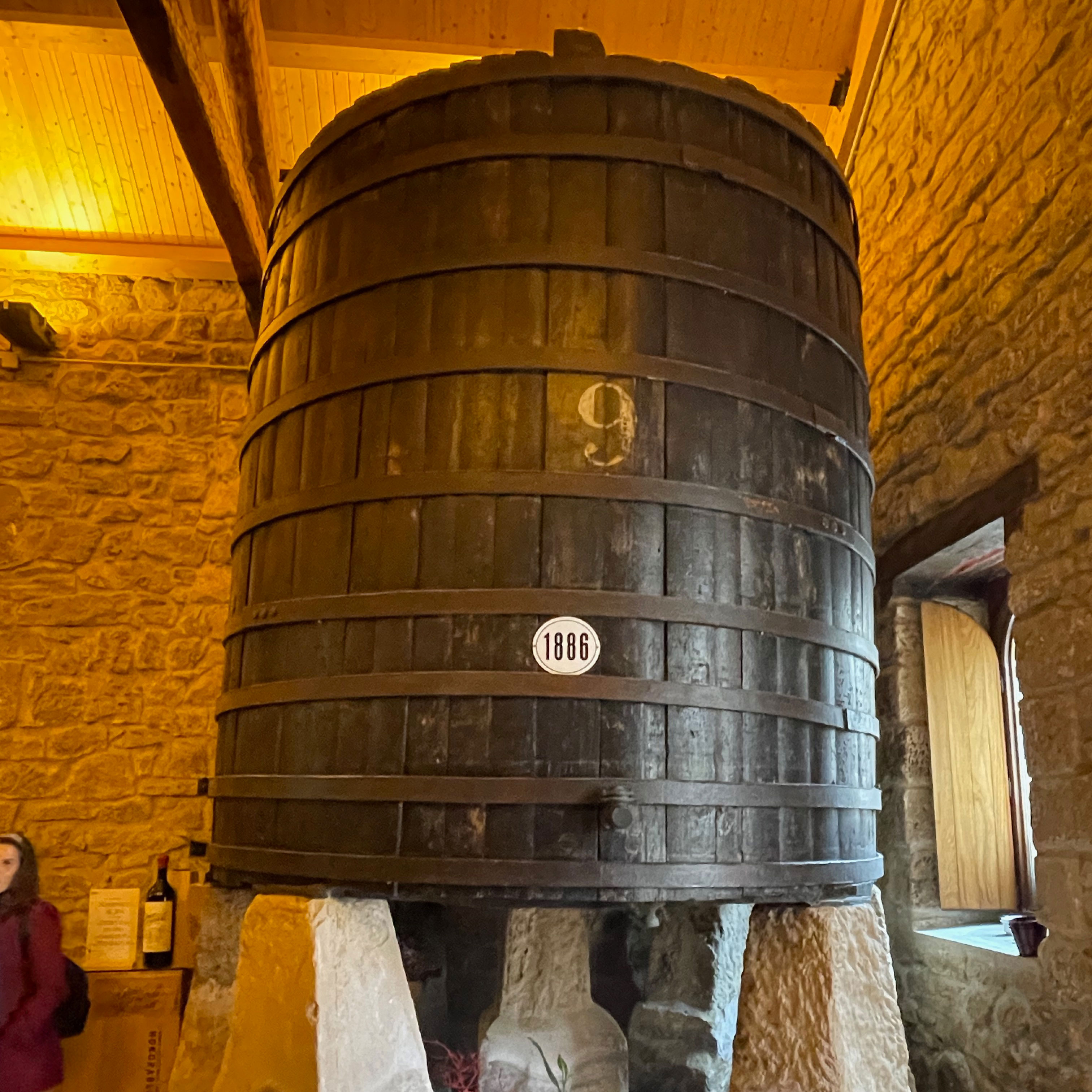 Explore the Rioja Valley, one of Europe's largest wine regions, for vineyard tours and tastings. Lunch at a countryside tavern. Roam the cobbled streets of LaGuardia, a medieval walled village. Free evening.
———————————————————————————————————————————
San Sebastian & Pintxos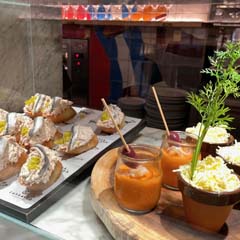 Travel to San Sebastian and settle in the Villa Katalina, located next to the cathedral in the pedestrian zone. Free afternoon. Evening guided walking tour of the city combined with a moveable feast of the area's famed pintxos, or Basque-style tapas.
———————————————————————————————————————————

Market Day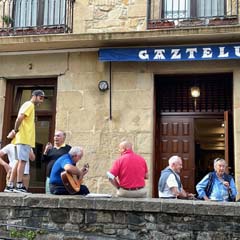 Peruse La Brecha food market with Chef Bendur before heading to one of the town's oldest txokos, or gastronomic societies, for a cooking class. These traditional men-only clubs are a cornerstone of San Sebastian life. Free afternoon.
———————————————————————————————————————————

The Basque Seaside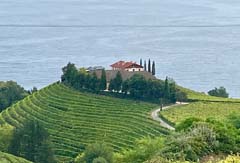 We'll head into the neighboring countryside for a tour of a traditional cider house. Then off to the fishing village of Getaria with lunch at a local tavern. Afternoon visit to a Txakoli (regional white wine) vineyard with its sweeping coastal views.
———————————————————————————————————————————

Cheese Tasting & Paella Cooking Class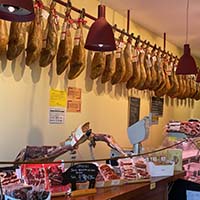 Visit a sheep farm where the smoky Basque Idiazabal cheese is made and sample their award-winning products. Lunch of traditional fare at a countryside tavern with breathtaking views. Explore the towns of Tolosa and the Basilica of Loyola. Evening paella cooking class.
———————————————————————————————————————————

Fortress Towns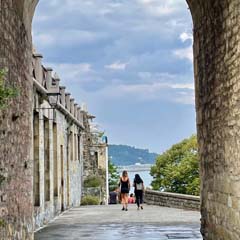 We're off to France and our new accommodations at the Hotel Arraya in Sare. Along the way, we'll stop in Hondarribia to explore its medieval center and view its 10th-century castle. Lunch on local specialties before driving into the Pyrenees to visit the former fortress towns of Elizondo and Zugarramurdi.
———————————————————————————————————————————
Fine Dining & Chocolate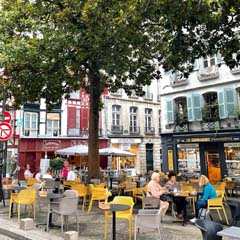 Explore the quaint seaside village of Saint Jean de Luz with time to roam its narrow alleyways. Visit Egiategia, an aquatic winery that is experimenting with under-the-sea fermentation. Lunch at Gaztelur, a Michelin countryside restaurant. Chocolate tour and tasting in Bayonne, an ancient village filled with half-timbered homes.
———————————————————————————————————————————

Village Life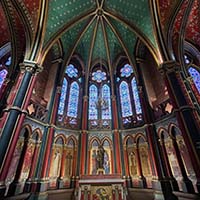 We're off to Saint Jean Port de Pied, for many the starting point of the camino into Spain. Explore the towns of Baigorry and Bidarray, lunching along the way. Multi-coursed farewell dinner at the Michelin-noted Hotel Arraya.
———————————————————————————————————————————

Bon Voyage!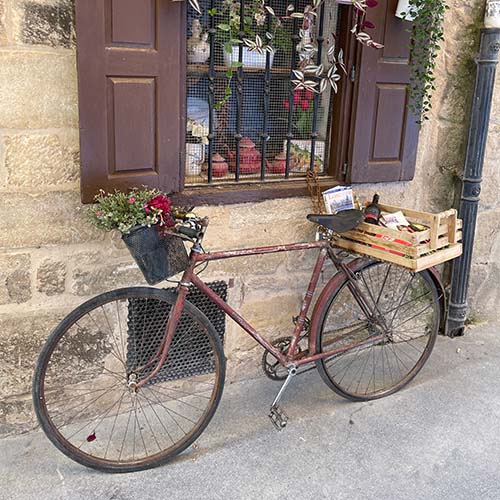 After breakfast, we'll pack our bags and head to Biarrtiz for a drop-off at either the airport or train station.
———————————————————————————————————————————
Itinerary subject to change depending on local festivals and concerts.