The Hidden Gems of Northern Italy
Bologna to Bergamo
May 12-20, 2024
Lake Como add-on, May 20-23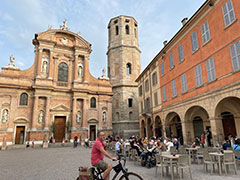 Discover the heart of Northern Italy—its picturesque lakes, storybook villages, and famed cuisine. This Delicious Expedition will travel more than usual, taking us from Bologna to Bergamo as we delve into the history and culture of this enchanting land.
Northern Italy is the home of polenta, risotto, Osso Buco, and amazing Ragu alla Bolognese. And of course wine, from sparkling Lambrusco and Prosecco to the famed Amarone and Valpolicello. We'll sample balsamic vinegar from ancient barrels and marvel at enormous rounds of Parmesan placed on storehouse shelves. We'll eat homemade ravioli stuffed with pumpkins grown in nearby fields and devour gnocco fritto—fried puffed dough stuffed with paper-thin slices of prosciutto.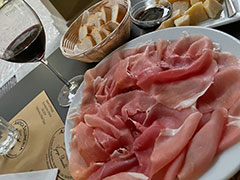 Our accommodations, in mostly 4-star hotels, vary as we move among the hidden gems that possess a wealth of art and architecture but not the crowds of Italy's top tourist destinations. We'll stay in the heart of historic centers to make walking and exploring easy. In Reggio Emilia, our hotel dates to the 15th century and by 1684 was considered a respectable inn. We know this because they fined 25 gold coins to "anyone staying all night with the sole purpose to get drunk or lay with a prostitute." (You've been warned!) In Mantua, we'll reside in a lovingly restored palazzo. (Since most of our accommodations are situated in older buildings, there are no elevators and will require walking up 1-2 flights of stairs.)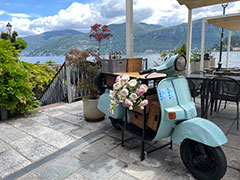 Continue your journey by joining us on Lake Como. We'll travel from Bergamo to the quiet village of Lezzeno, located near Bellagio but far away from the crowds. Spend 3 nights lakefront relishing the beauty of the area and learning about its history, culture, and cuisine.
—————————————————
Experience Northern Italy
$4800 per person, double occupancy
$750, single supplement
Extra night in Bologna upon arrival: $290
Lake Como add-on:
$1400 per person, double occupancy
$400, single supplement
—————————————————
Our Northern Italy tour includes 8 nights accommodations with breakfast: 1 night at the Art Hotel Orologio in Bologna, 3 nights at Hotel La Posta in Reggio Emilia, 3 nights at either Palazzo Arrivabene in Mantu or Ca' Degli Uberti Palace, and 1 night at Palazzo Vecchio in Bergamo. Also included: ground transportation after arriving to the Art Hotel Orologio and until drop-off at either the Bergamo train station or airport, all group activities and tours, expert guides, and either lunch or dinner daily. Since this is a food tour, we'll be sampling and tasting a lot along the way.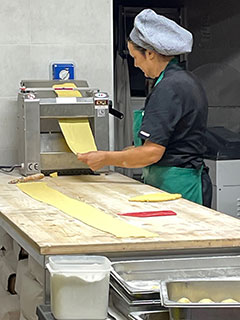 Our Lake Como add-on includes 3 nights at the Villa Aurora with a lakeview room, all transportation until drop-off at the Milan airport or train station, all group activities and tours, expert guides, and either lunch or dinner daily.
A $1000 deposit is required to secure your place in our Hidden Gems of Northern Italy tour. Since the number of participants is limited and accommodations vary in size and design, early registration is advised. All rooms will be assigned on a first-to-register basis, including three balcony rooms on Lake Como.
Delicious Expeditions also offers culinary tours to:
Croatia, France, Guatemala, Istria, Michoacán, San Miguel de Allende, Slovenia, Tuscany, Umbria, Venice & Vienna
Don't just take our word for it!
Read our testimonials and see for yourself that Delicious Expeditions are trips of a lifetime!
A Culinary Journey into a Fabled Land
¡Benvenuto!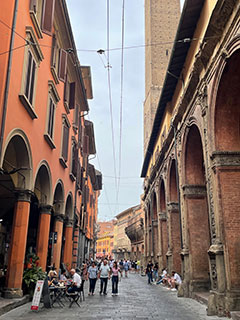 Arrive to Bologna and the Art Hotel Orologio, next to the town's main square. Gather for introductions and a glass of wine before a guided walking tour. Stroll under the covered archways that make this city unique; marvel at the medieval towers that soar into the sky. We'll dine on traditional dishes that have made Bologna one of the world's top culinary destinations.
See Northern Italy photo gallery
———————————————————————————————————————————
La Cucina Italiana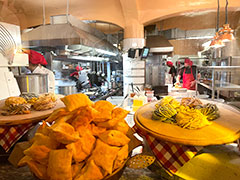 Discover the secrets of the Bolognese kitchen during a cooking class lunch at a picturesque farmhouse in the hills of Emilia-Romagna. Gather produce from the garden and enjoy the views from the veranda. Indulge in award wining (and often misunderstood) Lambrusco wine in the village of Cristo di Sorbara. Arrive to Hotel La Posta in Reggio Emilia. Spend the evening strolling through the town's many squares and alleyways, stopping for a glass of prosecco as locals often do.
———————————————————————————————————————————
The Enchanting Town of Parma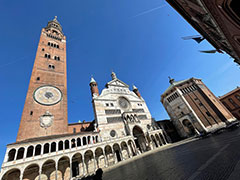 Explore the 15th-century Torrechiara Castle, considered one of the most important in Italy. Discover its trove of frescoes and Renaissance art before heading to the beautiful town of Parma (UNESCO Creative City of Gastronomy) for a guided walking tour and lunch of local specialties. Free time to wander on your own or to grab a gelato.
———————————————————————————————————————————

Explore Emilia Regiano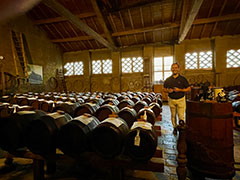 Immerse yourself in the world of Parmesan—the most popular cheese in the world—as we visit a DOP-certified diary farm and sample how the cheese changes with age. Then explore a medieval hamlet before lunch at the home of our host at La Posta, where he'll share his knowledge of balsamic vinegar making through stories of his family.
———————————————————————————————————————————

Markets & Palaces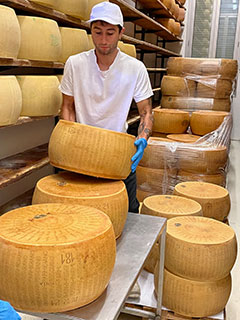 Explore Modena through its food with a moveable feast. We'll start at the historic Albinelli covered market and continue on to various botteghe storiche, or historical gastronomic stores. Travel to Mantua and settle in at Palazzo Arrivabene. Amble through the narrow streets and discover this hidden gem known to few. After a walking tour to get acquainted with your new home-away-from-home, sip a glass of wine on the piazza or dine on pumpkin ravioli, a native dish.
———————————————————————————————————————————

Lake Garda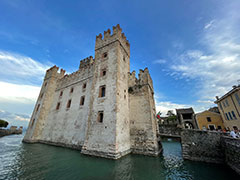 We'll travel to the shores of Lake Garda, first stopping at a 17th-century mill that today produces one of the top Carnaroli rices used in making risotto. Explore the fortified island town of Peschiaria del Garda and the peninsula of Sirmione, considered the most beautiful spot on the lake. Travel inland for wine tasting of the area's famed Amarone.
———————————————————————————————————————————

A Feast of Music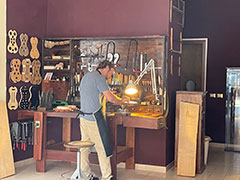 Enjoy some free time to see more of Mantua before setting off for Cremona, the internationally renowned home of violinmakers. Lunch on local fare at a historic tavern. Visit a master luthier, or violinmaker. Learn about his work, hear his notes and his story. Evening cocktails in the piazza, in front of the stunning cathedral.
———————————————————————————————————————————
Bergamo Beauty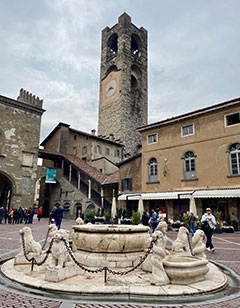 We're off to the foothills of the Italian Alps and the magical hill town of Bergamo. Settle into Hotel il Sole. Free afternoon to wander the medieval streets on your own, walk the Venetian defensive walls, or savor the amazing frescoes in the Basilica. Dinner featuring the local pasta--casoncelli alla bergamasca, a meat-stuffed ravioli served with butter, bacon, and apple--along with other treats.
———————————————————————————————————————————
For those continuing on to Lake Como:

The Silk Road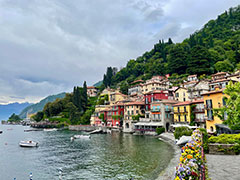 We're off to learn about Italy's silk industry, which flourished in this area beginning in the 18th century. Lunch at a local osteria. Tour of Villa del Balbianello, a lakeside mansion renowned for its garden and art. Arrive to the Hotel Aurora in time for sunset.
———————————————————————————————————————————

Villas, Villages & Boats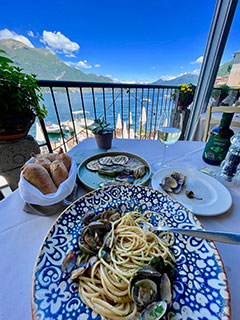 Spend the day boating on the water while visiting lesser-known villages, enjoying the dramatic scenery set against snow-capped mountains. Learn about the region's wine and cuisine at a family-owed cantina in a restored 16th-century cellar. Savor a meal prepared with local, organic produce while hearing stories of life along the lake.
———————————————————————————————————————————

Quiet on the Waterfront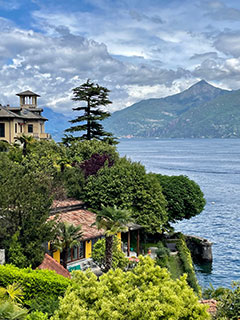 Free day to explore the more touristy villages on the lake—Bellagio, Varenna, Menaggio. Hike the Reggina trail, the donkey path that once connected Como to Bellagio, visit the nearby Villa Melzi, or stay at the Aurora and lounge along the waterfront. Our farewell dinner will be with our neighbors at the acclaimed Osteria Il Governo 1801.
———————————————————————————————————————————

A Final Farewell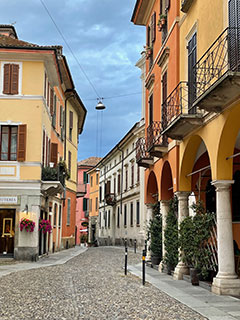 After breakfast, we'll pack our bags and head to Milan for a drop-off at either the airport or train station.
Our itinerary is designed to showcase the best of Northern Italy while allowing enough free time for you to also explore of your own. We'll be spending time in towns with pedestrian centers, walking at least 1-2 miles most days.
———————————————————————————————————————————