Day of the Dead in Michoacán
Celebrate!
Oct.28-Nov.4, 2023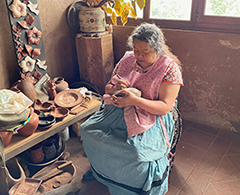 Add-on Adventure:
Mexico City, Oct. 25-28
Immerse yourself in one of Mexico's most beautiful holidays: Dia de Los Muertos is a mixture of indigenous tradition and Catholic feast. It's when people show love and respect for deceased family members by building colorful altars. They decorate graves with favorite foods and bundles of marigolds. Papel Picado is draped from the rooftops and fanciful catrinas line the shops and often the streets. This holiday is so unique and important that UNESCO has declared it an Intangible Cultural Heritage of Humanity.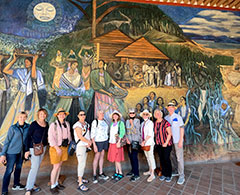 Ancient traditions run deep in this central Mexican state, home to the descendants of the Purépecha Empire as well as generations of noted artisans. This area drips with history and allure; lush forests and picturesque lakes. We'll first explore the majestic colonial city of Morelia. Founded in the 16th century, its downtown is built with the distinctive pink stone of the region; its streets exemplify early urban planning. We'll move on to Pátzcuaro, one of Mexico's most beloved pueblos mágicos, an honor bestowed on the country's most magical towns. Here, we'll stay in an exquisite private villa steps away from the main square. We'll explore nearby villages and meet local artisans, eat with traditional cooks and marvel at the simplistic beauty of this sacred holiday.
—————————————————
Experience Michoacán
$3500 per person, double occupancy
$500--Single Supplement
(Due to the high volume of bookings during this holiday, only a few single rooms will be available at this price.)
Extra night in Morelia: $180
(Early bookings advised here as well, due to almost sold out accommodations for the Morelia Film Festival.)
—————————————————
Our Michoacán Day of the Dead tour includes 2 nights at the NanaVida Hotel in Morelia and 5 nights at a private luxury villa in the center of Pátzcuaro, all ground transportation after arriving to Morelia and until checkout, all group activities, cooking demonstrations, bilingual tour guides, and all meals specified in the itinerary.
The tour price does not include airfare or any transportion to our starting point in Morelia (however we'd be happy to help you with arrangements), tips to guides and hotel/house employees, or alcoholic beverages other than what's served to the group during our scheduled events.
A $1000 deposit is required to secure your place in our Michoacán tour. Since the number of participants is limited and accommodations in Pátzcuaro are completely sold out, early registration is essential.

Delicious Expeditions also offers culinary tours to:
Croatia, France, Guatemala, Istria, Michoacán, San Miguel de Allende, Slovenia, Tuscany, Umbria, Venice & Vienna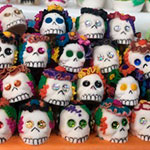 Don't just take our word for it!
Read our testimonials and see for yourself that Delicious Expeditions are trips of a lifetime!
Artisan Treasures &amp Culinary Pleasures
¡Bienvenidos!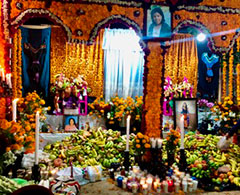 Arrive at the NanaVida Hotel in Morelia, and delve into colonial Mexico. Settle in before joining the group for a welcome drink in the hotel's lovely garden. For dinner, we'll walk around the corner to La Conspriación de 1809, a restored mansion and one of the city's finest restaurants. There, chef Cynthia Martinez will dazzle us with a selection of her signature dishes that meld time-honored tradition with a modern flair.
See Michoacán photo gallery
———————————————————————————————————————————
Discover a Colonial Gem
After breakfast, we'll meet for a walking tour of the city's historic center, visiting popular landmarks along the way, including the Cathedral and the Conservatorio de las Rosas (the first music conservatory in the Americas). We'll visit former palaces and convents while strolling the cobbled streets and expansive boulevards. Lunch with chef Lucero Soto at her restaurant Lu Cocina Michoacana, where we'll sample her commitment to sustainability and local ingredients. Free afternoon and evening to explore the markets, museums, and shops. Or partake in one of the events sponsored by the Morelia International Film Festival that coincides with our visit.
———————————————————————————————————————————
Dinner on the Lake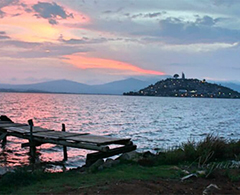 Today, we begin our journey into the villages of Michoacán to experience their world-renowned folk art. We'll first stop in Capula, a pottery town, and the birthplace of the Catrina. Learn the story of how the famed character got her start by visiting the artisan who first sculpted her; peruse the festival that bears her name. Arrive to Pátzcuaro and our private villa where lunch awaits us. Free afternoon to settle in or begin to discover the town. Evening boat ride to Hacienda Ucasanastacua for dinner along the shore.
———————————————————————————————————————————

The Charm of Pátzcuaro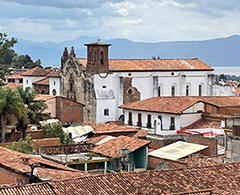 After breakfast, we'll join our guide for a walking tour of the town. Founded in the 1320s, Pátzcuaro's cobbled streets and low white buildings with terracotta roofs offer the charm and quaint beauty of bygone days. Free afternoon to enjoy the Folk Art Market. Cooking demonstration and dinner in Santa Fe de la Laguna at the home of Maria del Rosario Lucas. At dusk, we'll walk through town and visit the altars set up for the Night of the Angelitos.
———————————————————————————————————————————

Ancient Ruins & pre-Hispanic Cuisine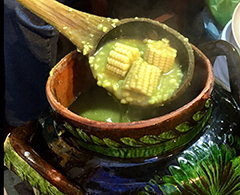 We're off to Tzintzuntzan, another pueblo mágico and the one time capital of the Purépecha Empire. We'll visit its archeological site, a former town of 40,000, and learn about its unusual rounded pyramids. Back in town, we'll explore the market, seeing examples of the area's crafts: pottery, reed work, weaving, and masks. Lunch with cocinera tradicional Blanca Villagómez as she introduces us to the area's traditional dishes, some of which are pre-Hispanic. Cemetery visit at dusk. Returning to the villa, we'll build our own altar to celebrate this sacred holiday.
———————————————————————————————————————————

Dia de los Muertos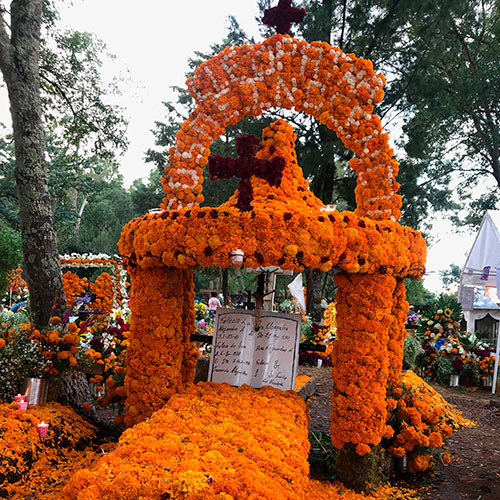 On this day—the Day of the Dead, we'll head to the villages on the west side of Lake Pátzcauro to visit their cemeteries and learn their traditions. Lunch with Doña Mary in Erongaricuaro, followed by a mezcal tasting in Opongio. Free evening to dine on the Plaza Grande—considered one of the most beautiful squares in Mexico.
———————————————————————————————————————————

Copper Artisans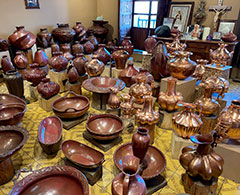 We'll spend our morning in Santa Clara del Cobre, a nearby town named and famed for its copper work, learning about the centuries-old craft that is kept alive through its amazing artisans. Free afternoon for any last-minute shopping or exploration. Farewell dinner at the villa.
———————————————————————————————————————————
Buen Viaje!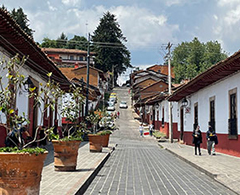 Return by taxi or shuttle to Morelia airport or another destination in Mexico. Or partake in our 4-day extension tour to Michoacán's Meseta to delve deeper into the world of the region's artisans.
———————————————————————————————————————————
Join our add-on adventure!
For those flying into Mexico City, come a few days early and discover what this amazing city has to offer. Join host Betsy McNair of My Mexico Tours as she takes you from the seat of the Aztec Empire to the canals of Xochimilco, eating exquisite meals along the way. (October 25-28)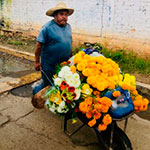 Day of the Dead activities subject to change depending on local festivals and weather.
Please be aware that we can only accept travelers who have been fully vaccinated. This insures the safety of the group as well as the people whose homes we will be visiting.