Ireland and its Wild Atlantic Way
Discover Ireland!
September 4-14, 2024
Be enchanted by the lush landscape and dramatic cliffs of Ireland while wandering through picturesque villages and prehistoric ruins. Our off-the-beaten-track experience will take you from Dublin to the wilds of Connemara and the Burren before settling into the bustling world of Cork—the country's culinary hub. Dine in traditional pubs as well as indulge in Ireland's farm-to-table movement and the haute cuisine of castles and manors. Learn about Irish whiskey and poitin, its predecessor. Forage for food on the rocky shores, visit an abalone farm, and eat mussels, oysters, and lobster pulled fresh from the sea, all while embracing traditional life and local color.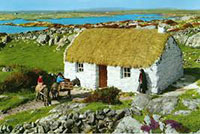 Our 4 and 5-star accommodations let you experience the abundance of Ireland. We'll first settle into the Pembroke Townhouse in Dubin's Georgian neighborhood, once home to 19th-century high society. A night at Kilronan Castle will immerse you in luxury as well as amazing history. Jump into 18th-century manor life while staying at the elegant and antique-filled LisDonagh Manor House outside of Galway. Roam its secluded woodlands and sit by the lake; visit with farm animals and dine on produce from the organic garden. We'll end our Delicious Expedition at the historic Metropole Hotel in Cork. Its central location makes enjoying nightlife easy.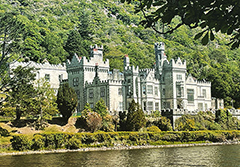 —————————————————
Experience Ireland
$5500 per person, double occupancy
$900--Single Supplement
Extra night in Dublin:
$280, double room
—————————————————
Our Ireland tour includes 10 nights accommodations with breakfast: 2 nights at the Pembroke Townhouse in Dublin, 1 night at Kilronan Castle, 4 nights at LisDonagh Manor House outside of Galway, and 3 nights at the historic Metropole Hotel in Cork. Also included: ground transportation after arriving to the Pembroke Townhouse and until drop-off at the Cork airport, all group activities and tours, expert guides, and meals with the exception of 3 free evenings.
A $1000 deposit is required to secure your place in our Ireland tour. Since the number of participants is limited and accommodations vary, early registration is advised. Room at LisDonagh Manor will be assigned on a first-to-register basis.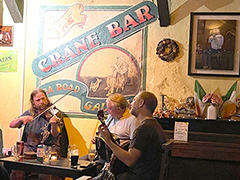 Delicious Expeditions also offers culinary tours to:
Croatia, France, Guatemala, Istria, Michoacán, San Miguel de Allende, Slovenia, Tuscany, Umbria, Venice & Vienna
Don't just take our word for it!
Read our testimonials and see for yourself that Delicious Expeditions are trips of a lifetime!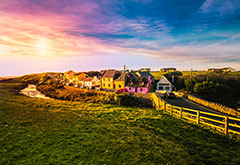 Castles, Culture & Cuisine
Fáilte!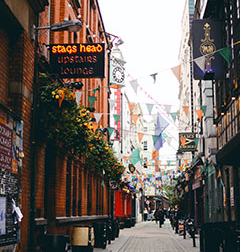 Arrive to the Pembroke Townhouse
in Dublin's Georgian District. Settle into the period home or step out and wander through the neighborhood's graceful promenades and elegant squares. Pub dinner with live music.
———————————————————————————————————————————
Literary Dublin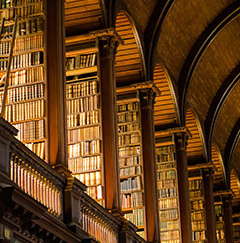 Accompanied by a literary expert, take a guided tour of Trinity Library, one of the world's most beautiful whose collection spans millennia. Then continue on to the Book of Kells, Ireland's greatest cultural treasure. Lunch of Irish specialties. Free afternoon and dinner to explore on your own.
———————————————————————————————————————————
Cathedrals & Castles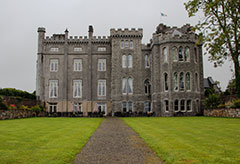 Depart Dublin for Drimnagh Castle, hidden in the heart of the city. Then we're on to St. Brigid's Cathedral in Kildare. Founded in the 5th century, this restored Norman cathedral is one of the most significant ecclesiastical sites in Ireland. Arrive to Kilronan Castle with time to explore its lush grounds or visit its spa. Dinner in their award-winning restaurant.
———————————————————————————————————————————

Lisdonagh Manor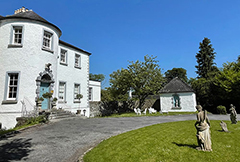 Visit Sligo, a picturesque town known for its literary heritage and rugged countryside, at the foot of Benbulben Mountain. Tour Lissadell House and Gardens, former home of Constance Markievicz, one of the leaders of the 1916 Rising as well as aplace of inspiration for W. B. Yeats. Lunch of just-pulled-from-the-water seafood. Settle into Lisdonagh Manor House. Meet the farm animals or walk to the nearby lake. Light supper in the dining room. Optional foray to the nearest pub in Hearford for drinks and live music.
———————————————————————————————————————————

The Wild Atlantic Coast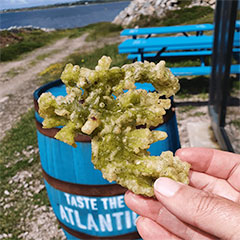 Head to Connemara and Ireland's Wild Atlantic Coast to forage for edibles. Visit Kylemore Abbey with its rich culinary tradition. Wander the ruins of Aughnanure Castle with its sweeping landscape then learn about aquaculture at an abalone farm. Evening wine and snacks at the manor.
———————————————————————————————————————————

Galway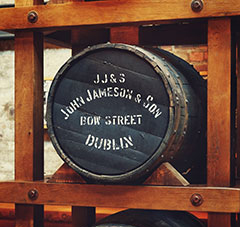 Explore Galway with an expert guide. We'll lunch along the way, discovering the city's best food spots. Free afternoon to wander the alleyways and visit shops, and discover why this city was named Europe's cultural capital in 2021. Whisky tasting at Micil Distillery. Evening storytelling by the fire with Seamus.
———————————————————————————————————————————

The Burren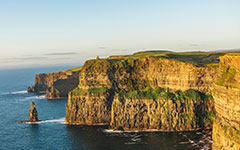 Head to Burren in Country Claire to walk the Cliffs of Mohar and enjoy some of Ireland's most iconic vistas. Wander through the picturesque village of Doolin before a seaside lunch at Linnane's Lobster Bar. Visit Hazel Mountain chocolate and Caherconnell Stone fort to learn about traditional farming. Light supper.
———————————————————————————————————————————
Country Cork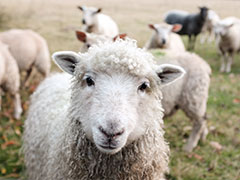 We're off to Country Cork, known for its rugged coast and monolithic monuments. Along the way we'll stop in Newmarket on Fergus and visit the thatched cottages of Adare. Country lunch before visiting Knockardbane Farm and its donkey sanctuary. Settle into the historic Metropole Hotel in downtown Cork. Free evening to explore the restaurants and pubs.
———————————————————————————————————————————

A Day in the Life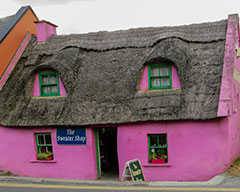 We'll explore one of Ireland's most colorful cities on a guided walking tour that includes the world's second-largest natural harbor. Lunch at the famed English market. Traditional afternoon tea. Free evening for pubs and live music.
———————————————————————————————————————————

The Gourmet Capital of Ireland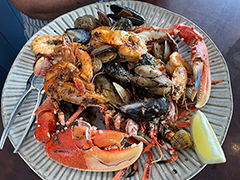 Head to Kinsdale, a nearby fishing village that is considered the gourmet capital of Ireland. Enjoy a food tour through the medieval streets and sample dishes from many of the renowned eateries. Roam through Charles Fort before a tour at Kinsale Meade company. Then we'll travel to Midleton for a whiskey tasting at Jameson's original facility, built in 1825. Farewell dinner at Ballymaloe, the birthplace of modern Irish cuisine.
———————————————————————————————————————————

Farewell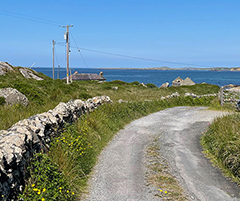 Breakfast with morning departure to the Cork airport.
———————————————————————————————————————————
*Itinerary subject to change depending on local festivals and concerts.